The Woodcote War Memorial was constructed in 1919 and is inscribed with the names of 23 men who lost their lives in WWI. The small stone was added in 1945 to add the 7 names from WWII.
WWI - Names
Inscription at the top:-
TO THE GLORY OF GOD IN EVER LOVING MOMORY OF THE MEN OF WOODCOTE WHO LAID DOWN THEIR LIVES IN THE GREAT WAR 1914 - 1919
Charles Allen
George Allen
William E. G. Atkinson
Alfred William Bowell
John Reginald Brown
William Carter
John Collins
Percival Claude Duncan
Harry Goddard
Edwin Ernest Hall
William Hutton
George Jacob
Lt Gerald Lesmond. RNR
Ernest George Osman
Charles Thomas Painter
John Painter
Ernest William Pearson
Henry Joseph Pearson
James Richardson
George Thomas Smith
Elmer Theodore Somerville
John Ward

Inscription at base:-
THERE NAMES LIVE FOR EVERMORE
A single name is below the base inscription:
Thomas Howard Lewis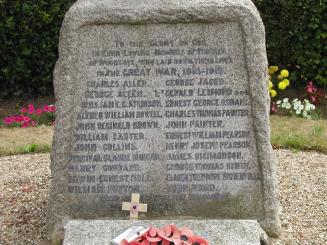 WWII - Names
The inscription at the top of the tablet is:-
"1939 - 1945"
Reginald Hodges
Reginald Sherwood
Reginald Kearn
Victor Taylor
Leslie Marcham
Philip Griffiths
Geoffrey Pitt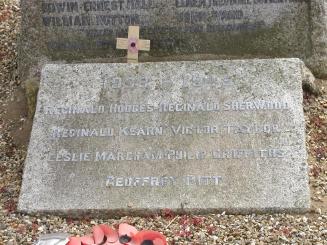 No other information is given.